Brief Introduction:
Solvent type machine is divided into single component and multi-component dispenser. Hot melt type machine is divided into melt cylinder type, pressure plate pump type, it consist of melt glue system and load glue system, loading method has pneumatic and gear pump, the feature is short melt time and fast takt time.
Device Characteristics:
1. The consist of Full automatic high speed dispenser robot : The glue coating robot is mainly composed of the coating robot arm and the motion control part. The coating robot arm is driven by the servo motor to drive the ball screw or the synchronous belt drive to drive the dispenser valve.
Generally, the robot needs to be equipped with a specially developed motion control card and a teacher for programming operation. It can draw dots, lines, arcs, circles and so on, which greatly improves the automatic degree of dispensing and improves the efficiency and precision of dispensing instead of manual. With automatic production line, can replace with welding and screw, the purpose of bonding and packaging, dispensing uniform and beautiful, to avoid glue solvent harm to the human body, can be divided into desktop and large machinery.
2. Function of Full automatic high speed dispenser robot : The main function of the glue machine is to fill and bond. It is mainly used in the electronic industry, the automobile industry, the medical industry, the LED, the storage battery, the medical device, the water treatment of the environment-friendly industry, the air-conditioning filter element industry and the package of the photo voltaic power generation element.
3. Application of automatic five-axis intelligent high-speed dispensing robot industry : Domestic water purifier RO film dispensing packaging film winding machine RO film cutting machine.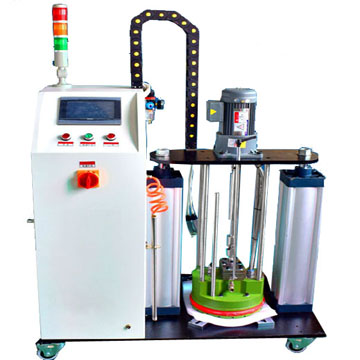 Full Automatic High-speed Dispenser Robot
Service Process:
You offer information of the workpieces being welded ( like pictures, materials, sizes, requirements, etc.. If have samples, you'd better to send us some to perform the welding test )——If can be welded, we provide offer sheet——Once confirmed, sign a contract——You paid deposit——Equipment manufacture——Pass your acceptance, and after the receipt of your balance payment, deliver device to you.
Automatic Five-axis Intelligent High-speed Dispensing Robot Equipment Display: