Brief Introduction:
The hot melt machine is a thermoplastic welding equipment using the surface thermal conduction method to melt the surface of the thermoplastic workpiece being welded and can be applied for melting and connection of ultrasonic refractory workpieces, such as water tanks, combination auto lamps, automobile door plates, bumpers and sinks of washing machines, etc..
The hot melt mold is made through profiling carving aided by computer, ensuring the close fit between the mold and workpiece. The identical welding size of the product provides a neat and orderly appearance.
Device Characteristics:
a. It has the divisional temperature controlling function to ensure even welding;
b. No need any adhesives or flux, and less heat consumption;
c. Easy operation, and high strength;
d. The advanced configuration with a PLC main control system, a touchscreen human-machine interface (HMI) or a threshold raster not only makes operation easy and simple, but also achieves better functions of process monitoring, automatic fault diagnosis, power-off protection, low air pressure protection and abnormal operation protection so as to improve welding quality, ensure the safety of human and equipment and meet the SHE (safety, health and environmental protection) requirements;
e. CE, ISO 9001 international quality certificate;
f. 1-year warranty.
| | |
| --- | --- |
| Type | KCR-260 |
| Size(mm) | 600*1050*h(according to workpieces) |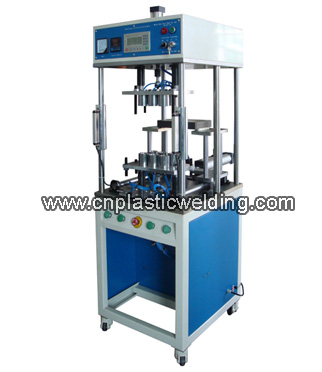 KCR-260 hot melt machine
View how it works:
Service Process:
You offer information of the workpieces being welded ( like pictures, materials, sizes, requirements, etc.. If have samples, you'd better to send us some to perform the welding test )——If can be welded, we provide offer sheet——Once confirmed, sign a contract——You paid deposit——Equipment manufacture——Pass your acceptance, and after the receipt of your balance payment, deliver device to you.
Some Application Examples:
Deodorization ball, Brake oil cup, Washing ball