Brief Introduction:
As an automatic filling machine developed by ourselves for filling detonators produced by a civil explosion enterprise, it solves the problems of diversification of detonator materials, various specifications, strict requirements for working efficiency, safety and reliability.
Device Characteristics:
a. Planish the detonator after diefilling;
b. Explore the foreignmatter in the detonator after diefilling;
c. Detonators automatic upgrading and hopper-arrangement techniques, that is, rearrange the detonators in the hopper according to the optimal number of different specifications, automatically promote them to the entire feeder with timing and fixed amount, and automatically introduce the detonators evenly into channels;
d. Original universal thimble--detect all types of detonators direction, and redirect with special technology structure, loading rate is over 99%;
e. Water tubing, multifunctional, compatible with aluminum detonators, bluing detonators, copper-clad detonators and paper detonators;
f. Full size series detonators can realize stepless adjustable within one minute;
g. 1-year warranty.
| | |
| --- | --- |
| Production Efficiency | 20000~30000/hour(10 persons) |
| Proper Filling Rate | >99% |
| Erroneous Filling Rate | < 1% |
| Inverse Filling Rate | < 0.5% |
| Missed Filling Rate | < 0.5% |
| Pipe Length | 45--78mm |
| Size | 2000mm*1400mm*2800mm |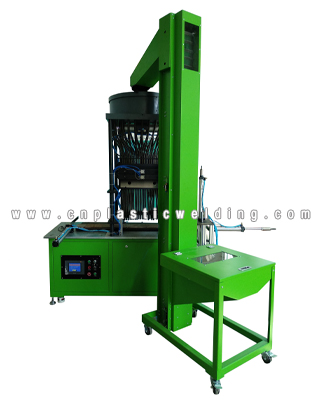 Automatic Detonator Filling Machine
View how it works:
Service Process:
You offer information of the workpieces being welded ( like pictures, materials, sizes, requirements, etc.. If have samples, you'd better to send us some to perform the welding test )——If can be welded, we provide offer sheet——Once confirmed, sign a contract——You paid deposit——Equipment manufacture——Pass your acceptance, and after the receipt of your balance payment, deliver device to you.
Some Application Examples: